Buddy Holly.
Presley Elvis.
Davis miles.
Dizzy Gillespie.
Duke Ellington.
Carlos Santana.
B.B. King.
John Lee Hooker.
Painters and other artists.

Image: Bo Diddly in concert.
I would like, on this page, to present some of my favorite artists to you. That does not want to say that I do not admire others, and that I do not admire other disciplines. There is for example "our" Claude Monet, which had formerly established its workshop and garden in Giverny, some ten kilometers away of my home. And to remain in painting, one should especially not forget Vincent van Gogh and Picasso. You are perhaps surprised not to see authors of music known as traditional, because I do not appreciate them, put aside of certain pieces of Verdi.
Sources: WikiPédia
Buddy Holly.
Buddy Holly, from his true name Charles Hardin Holley, son of Lawrence Odell Holley and Ella Pauline Drake, was born on September 7, 1 936 in the Lubbock city in Texas. Its name was changed Holley into Holly, when he signed his first contract on February 8, 1956, when he recorded his first single "That' ill Be The Day". This change was not made deliberately, but was a spelling mistake in the contract. But before signing this contract, he had started to play the "Bleugrass" music at college with his comrade Bob Montgommery, under the name of "Buddy and Bob". They sang, like many small initial groups, primarily in the bars and and local clubs. He begun the transition towards the "Rock'n'roll & Roll", after having seen Presley Elvis live in his birthplace at the beginning of the year 1955. Its transition towards the music Rock'n'roll had been finalized when he played in pre-concert of Bill Haley. It was following this concert that his first contract had been offered to him.
Later, back in his birthplace, Lubbock, he formed his group, "The Crickets", made up of: Buddy Holly, Jerry Allison, Joe B. Mauldin, and Niki Sullivan. It is with the Crickets that he started to record his songs in the studios of Norman Petty. But his first recording, "That' ill Be The Day", was initially not a success, it had to be recorded again slower and a higher half octave. His music, and his manner of singing in particular, was characterized by its famous "hiccup". He was also known for the sophistication of his songs, then he went in his lyrics well beyond the topic "boy-loves-girl" of the time. It was at the beginning of the year 1959 that Buddy Holly, which preferred the musical scene New York, had finally accepted that the members of its group "The Crickets", who preferred to return to the country, returned to Lubbock. Buddy Holly continued then solo with two other artists, Ritchie Valens and "The Big Bopper", J.P. Richardson. He was backed up by three musicians, Tommy Allsup, Carl Bunch, and Waylon Jennings. The next day of their concert of February 2, 1959, in "Ballroom Surfing" in the city Clear Lake in the state of Iowa. Buddy Holly had rented a plane, Beechcraft Bonanza registered N3794N, for February 3, to bring them to the place for the next concert. It was Ritchie Valens who had won the toss to take the place of Tommy Allsup, who had to stay in bed with an influenza. It was later that the owner of the plane, Jerry Dwyer, discovered the wreck of the plane with the dead bodies of his occupants about 12 kilometers away from the airport. It was this way that February 3, 1959 entered in the history like "The Day the Music Died", picked up again by Modonna in the song "American Pie".
Presley Elvis.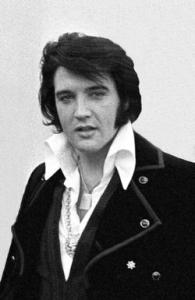 Elvis Aaron Presley, called "The King", was born on January 8, 1935 in a poor family from Tupelo in the Mississippi, and was the only son of Gladys Love Smith and Vernon Elvis Presley. He had a twin brother, a still-born child called Jesse Garon Presley, and he grow up until the age of thirteen in Tupelo. His parents, who were formerly without work and in great financial difficulty, moved to Memphis, a large city in Tennesse, where they lived in a two-piece social housing apartment. Amateur of negro music as well as gospel and blues, Elvis decides to try this music and during the summer 1953 he pushes the door of a small recording studio specialized in the negro music, the "Studio Sun Records" in Memphis. Received by the secretary Marion Keisker, he records on his own expenses two recordings, "My Happiness" and "That' S When Your Heartaches Begin" and gets out again with the disc under the arm to offer this to his mother, his only motivation for this recording. The career of Elvis started when Sam Phillips, owner of "Studio Sun Records" in Memphis, had asked a musical group to be present at a new audition in order to backup Elvis musically: Scotty Moore on guitar and Bill Black on bass. If Moore is more or less impressed, Black is even less. On July 5, they are in studio again. Whereas nothing suitable comes out and Phillips very disappointed, is on the point of closing the studio, Elvis starts to play the first notes of an old song, "That' S All Right Mama". Here the comment of Phillips: "What had just done Elvis with That' S All Right gave me the immediately chicken skin. I knew that we held there something. It was strictly speaking not the song itself, but that what Elvis did with the song. This song was in the beginning a blues, transformed by Elvis into "Rock'n'roll & Roll". I can tell you that this was a shock to me. I decided that we should record it. It was his first true success with Memphis. "
Elvis, who sold lifetime approximately 700 million records, played in 31 films, gave 1.054 concerts in the United States and three in Canada, gave 525 spectacles in Las Vegas. He was the first artist to give a concert by satellite. This concert has taken place on January 14, 1973 at Hawaii and it has been watched at simultaneously by a billion televiewers in 43 countries. He appeared in seven television shows. At the time of his death, his personal fortune represented 100 million dollars. Elvis died on August 16, 1977 in Memphis, Tennessee, causing great distresses among his admirors.
Davis miles.
Miles Dewey Davis III, who was born on May 25, 1926 in Alton, Illinois, was a type-setter and trumpet player of American jazz, and died on September 28, 1991, in Santa Monica, (California). Miles Davis, who was until 1975 at the top of almost all the evolutions of the jazz, was not only characterized by its instrumental virtuosity, but especially by its originality and its incredible capacity to discover and to surround himself by young talents.
His way to play was characterized by an extreme musical sensitivity and in particular the brittleness which he managed to give to the sound. He marked the history of the jazz and the music of the XX th century forever. Almost all the great names of jazz of the years 1950 to 1970 worked with him.
The formation of Miles became a true laboratory in which the talents of rising generation and the new horizons of the modern music appeared; we can in particular quote Sonny Rollins, John Coltrane, Julian "Cannonball" Adderley and Bill Evans during the years 1950. In the years 1960 and 1970, his sidemen were Herbie Hancock, Wayne Shorter, John McLaughlin, Keith Jarrett, Tony Williams or Joe Zawinul; it is with them that he directed towards the "fusion" of the rock'n'roll and the jazz of which he remains the inventor. A concert of Jimi Hendrix will be determining for his step of the time. Many musicians passing in his formation in years 1960 and 1968 will form then the emblematic groups of the jazz-rock'n'roll fusion: in particular Weather Carryforward, animated by Wayne Shorter and the Mahavishnu Orchestra from John McLaughlin, and Return to Forever with Chick Corea
In France, it is the recording of the music of the movie "L'ascenseur" from scaffold (1957) which made him famous. His last album, published in 1992, lets burst his influences of the RAP music.
Dizzy Gillespie.
John Birks "Dizzy" Gillespie, who was born on October 21, 1917 in Cheraw, South Carolina, was a trumpet player, type-setter and chief-of American jazz band. He is, with Miles Davis and Louis Armstrong, one of the three most important trumpet players of history of jazz. Having taken part in the creation of the Bebop style, and having contributed to introduce the Latin-American rhythms into the jazz, Dizzy Gillespie was characterized in particular by his trumpet inclined to the top, his cheeks inflated like those of a clamping plate, like his joy in life and his devastating humor which are for much in his popularity in public. As a musician, he had a amazing technique and an impressive speed of play.
John Birks "Dizzy" Gillespie, youngest child of a family of ten children, begins playing trumpet at the 12 years age as an autodidact and manages to gain a purse for Laurinburg Institute (North Carolina). However, he stops the school in 1935 and goes to Philadelphia to try to become a professional musician. Gillespie joined Frankie Fairfax and records for the first time for Roy Eldridge in the formation of Teddy Hill. He joined then the formation of Cab Calloway. The solos of Dizzy are however little appreciated by its employer, he calls that "Chinese music". Gillespie plays then in various formations like the of Duke Ellington, and carries out arrangements for Woody Herman. But in little time, Gillespie adds his own ingredients: speed of execution, musical acrobatics and original harmonies. He develops his own style and his talent brings pretty contracts to him within orchestras sorted on the shutter. Like to one he creates in 1946, where he gathers as much as Thelonious Monk, Milt Jackson that John Coltrane.
John Birks "Dizzy" Gillespie died on January 6, 1993, leaving a great number of amateurs of jazz orphan of a great trumpet player.
Duke Ellington.
Edward Kennedy Ellington, pianist, type-setter and leader of jazz was born on April 29, 1899 in Washington. His father, a house master in middle-class houses, transmitted the taste for elegance to him, which was the reason that he got at college the nickname of Duke. "The Duke" is regarded as one of greatest and the most prolific type-setters of the XX th century, having developed new symphonic ideas based on the expression and the intonation of the jazz and the blues and having left with the jazz of many standards. He did not direct his orchestra, but played with it like an instrument with its own sonority.
After having hesitated to study the graphic arts, Duke Ellington made his musical beginnings at 17 years as pianist in Poodle Dog Cafe, in his birthplace. In 1918 he assembled his first orchestra with several musicians who will follow him the remainder of his career. But success was not at the appointment. He married in 1918, whith Edna Thompson, who gave birth in 1919 to his son Mercer. In 1923, he founded a unit, The Washingtonians, with which he was going to conquer New York. In 1927 Duke and his orchestra were engaged in the famous Cotton Club of Harlem where they developed the "jungle" style. Many soloists of talent will join this unit, which will continued until the death of Ellington. In particular, Harry Carney, Johnny Hodges, Barney Bigard, Cootie Williams, Bubber Miley, Tricky Sam Nanton and Juan Tizol. In 1931 whereas he was one of most famous Afro-Americans personalities, Ellington left the Cotton Club of Harlem. He continued to make tours through the United States and Europe, as in the rest of the world up to the years 1960. The United States decorated him with the presidential Medal of freedom in 1969; in France, he has decorated with the legion of honor in 1973. After his death on May 24, 1974 in New York, his orchestra was taken over by his son Mercer.
Carlos Santana.
Carlos Santana (called Devadip) (born on July 20, 1947 with Autlán de Navarro in the state of Jalisco) is a Mexican-American virtuous guitarist, pivot of the groups Santana Blues Band, Santana Musicians and Santana Brothers. He is one of the most known contemporary guitarists in the world.
At 17 years, Carlos perfection's his autodidact training while occurring in the clubs of Tijuana, whereas his parents emigrated in San Francisco. In 1966, Santana Blues Band explodes the streets of San Francisco at the time of its first presentation there. He rocked and makes dance the world with many titles, such as; Samba Pa Ti, Black Magic Woman, Oye como goes, Europa and Evil Ways, or more recently with illegal Smooth and Maria Maria. In 1969 Santana takes part of the Woodstock festival with its latino tinted rock'n'roll rhythms. The thirty years which follow are only recognition and success for this international artist. Note that little before the Woodstock festival the group was invited there by the organizers. His performance ensured a great success of his first album, mixing salsa and rock'n'roll. The style of the group evolved in the years 1970 to a more "psychedelic" music, while keeping a strong Latin influence. Starting from the Supernatural album, Santana is surrounded by great artists like Aerosmith for Just Feel Better or Rob Thomas for Smooth. In the middle of the Seventies, he plays on Gibson' S but also on Yamaha SG 2000. (Europa) He has two Signatures models of mark PRS (Paul Reed Smith). The PRS Santana SE and also the PRS Santana III which he has almost always used for a few years.
Since 2005, Santana performs seldom.
B.B. King.
Riley B. King, better known under the name of B.B. King, which was born on September 16, 1925 in Itta Bena, Mississippi, is a guitarist, type-setter and singer of American blues. He is regarded as one of the best and the most respected blues musicians of. Besides that, he deserves well his name; King!
In the years 1950, B.B. King becomes one of the most important actors of music R&B, collecting an impressive list of successes such as; You Know I Love You, Woke Up This Morning, Please Love Me, When My Heart Beats like a Hammer, Whole Lotta Love, You Upset Me Baby, Every Day I Have the Blues, Sneakin' Around, Ten Long Years, Bad Luck, Sweet Little Angel, On My Word of Honor et Please Accept My Love. It is in 1962 that B.B. King signs with ABC-Paramount Records. In November 1964, he records his most known live album; Live At the Regal, recorded et the Regal Theater of Chicago (Illinois). B.B. King finds success outside the world of blues with the title The Thrill is gone in 1969. He is also recognized by the world of the rock'n'roll music due to playing the first part of Rolling Stones during their American tour of 1969. From 1951 to 1985, B.B. King appeared 74 times at Billboard' S R&B charts. In 1988, he touches a new generation with the title When Love Comes To Town with the group U2 on their album Rattle and Hum. In 2000, B.B. King records with Eric Clapton the album Riding With the King. Much more than than walk in the footsteps of its idol T-Bone Walker, B.B. King knew to create his own sound thanks to an inimitable touch and give a real personality to his guitar.
Anecdote:
B.B. King tells that when he was a young musician, he played in a bar when a brawl burst. It was so violent that somebody reversed the stove which heated the part and the bar took fire. Panicked, everyone took the escape, but arrived outside, B.B. King realized that it had left his guitar inside ! Knowing that it would take him several months to join together the 300 dollars necessary to replace it, the future king of the blues turned over in the bar in flames to find his guitar and came out from it in extremis. Thereafter, he learned that the brawl had been started because of a girl called Lucille. He then decided to call his guitar "Lucille" in order to always remember not to act stupidly in the life.
A bar of the same name in Moscow is dedicated to him.
John Lee Hooker.
John Lee Hooker, who was born between the 17 and on August 22, 1917 close to Clarksdale in Mississippi, was a guitarist and American blues singer. His style, unique and and authentic at the time, did make him one of the most important artists of this music, and his influence on the Blues and the Rock'n'roll during all the XXth century is considerable.
John Lee Hooker is the last of a poor family of 11 children. During its infancy, he is exposed only to music in the form of hymns such as Gospel, the only musical form that his father, a pastor, authorizes within his family. He became familiarized with the Blues only after the separation of his parents in 1921 and the remarriage of his mother with Willie Moore, farm laborer and bluesman at his free hours, who learned to him the rudiments of guitar playing. All its life, John Lee Hooker will pay homage to his father-in-law, whom he considers to be at the origin of his very personal style. In 1923, the father of Hooker dies, and John Lee, old of only 15 years, flees his home. He will never see back his mother nor his father-in-law.
After various adventures on which the sources differ, he settles in 1943 in Detroit, then capital of the car industry, in the intention to exert a work of workman there. In same time, he tries to find engagements of musicians in the bars and the brothels of Hasting Street, the district of the pleasures of the city. His beginnings where difficult due to the lack of sound power of its instrument : it was necessary to manage to cover the noise of the consumers, even competitor orchestras ! He adopted very early the first, which would allow, thanks to their microphones integrated and to an amplifier, to play more louder than no matter whom, and he develops an aggressive and hypnotic style, as well as possible exploiting the musical energy of electric guitars. In 1948, he records his first disc, the song Boogie Chillen, in a rudimentary style, near to the word, which will become his trademark.
In 1980, he plays his hit Boom Boom in the movie "The Blues Brothers". To respect his style of improvisation, his service is filmed and recorded live, contrary to many musical movies which use playback. He joined in 1989 with other prestigious musicians such as Carlos Santana and Keith Richards to record the album The Healer, which will be worth Grammy Award to him. He also sings several pieces at the sides of Van Morrison, whose "Never Get Out of These Alive Blues", "The Healing Game" and "I Cover the Waterfront", and whom occur with him on scene. At the end of its life, Hooker settles in San Francisco, where it opens a club of Blues named according to its greater success, Boom Room Boom. He gets sick in 2001, right before a tour in Europe, and dies a little later at 83 years the probable age.
Painters and other artists.
Well, there are not only musicians, there are also other artists, such as the painter, "our" Claude Monnet, who formerly lived in Giverny. Then there is, for not forgetting, Vincent van Gogh, who had painted large amounts his works during the last ninety days of his life, when he had come to live in Auvergne on Oise. We should also not forget the painter, who was among the only ones to have become rich during his lifetime, Picasso.
After having mentioned some painters, we should especially not forget other disciplines, because there are not only musicians and painters, but there are also actors, magicians, humorists, people of theater, and other. But should they all be named or not, I do not know, there has for example a name of a theater man which comes up in our mind, who is Molière, because he was a theater man, and was discovered by one of the girlfriends of Louis XIV, Athénaïs de Montespan. But we do have contemporary artists to, it is enough to look at the TV emissions on Saturday evening of Patrick Sebastien to convince you.